The MB-SPS-800 can be configured up to 7 solvents and is designed specifically for laboratories that need a safe, fast and easy method for dispensing ultra dry solvents. Unique features include glovebox integration ready piping, integrated vapor hood with 4 inch ventilation exhaust port, double column filtration, 17 liter solvent reservoir and independent regulators for each solvent line. The MB SPS 800 also offers unlimited customization options through a fully staffed engineering department. Whether you need a bench-top designed solvent purifier or a solvent purifier integrated into a fume hood, MBRAUN can meet any design requirements.
In addition MBRAUN SPS systems can integrate seamlessly with third party solvent providers such as Sigma Aldrich®, FisherPaks®and JT Baker®. All Solvent purification systems can be designed and configured to meet your specific application needs.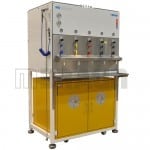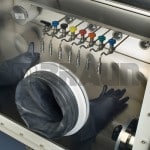 FEATURES
Purifies up to 800 liters of solvent before replacing columns (depends on solvent)
Double valve shutoff
Swagelok quick connects
Kevlar dip tube and fill port
Over pressure valve
Ready to operate completely encapsulated system
Each solvent line includes an independent regulator
No cross contamination of solvent vapor
---
SPECIFICATIONS
Please note: Specification may vary depending on configuration.
Type: encapsulated solvent purification system
External dimensions: (5 sps ) 1300 mm (w) x 2032 mm (h) x 1070 mm (d)
(7 sps) 1650 mm (w) x 2032 mm (h) x 1070 mm (d)
System control: manual
Operation: hand valves dispense solvent
Material: stainless steel (1.4301 / us 304)
Leveling feet: yes
Manifold: stainless steel piping w/ three way hand valve
Work shelf: adjustable stainless steel
Castors: yes
Vacuum pump: oil free diaphragm pump
Solvent flow rate: <1,000 ml / minute
Electrical power: 230v / 50-60hz, 10 amps, 115v / 50-60 hz, 15 amps
Safety cabinet: yes cabinets available for 2, 5 and 7 solvent systems
Vapor removal: vapor removal with 4″ connection & emergency cut-off valve
Process: closed loop system
Dispensing: from the sps system
Working gas: nitrogen or argon (typically a nitrogen source of 99.99% purity or better)
Solvent regulation: independent regulator for each solvent
Solvent line material: color coded stainless steel line (1.4301 / us 304)
Inlet pressure: inlet pressure set between 4.0 bar and 6.0 bar
Working pressure: working pressure set between 0.3 bar and 0.5 bar
Filter type: double column solvent filtration
Filter column: two stainless steel columns per solvent (1.4301 / us 304)
Filter column size: 4.8l (1 gallon)
Particle filtration: filter columns equipped w/ pre-filters
Filter material:depends on solvent type
Filter column capacity: up to 800l
Filter column activation: columns activated before shipment
Attainable purity: attainable purity varies according to solvent type
Material: stainless steel reservoir (1.4301 / us 304)
Capacity: 17l (optional sizes available)
Piping: stainless steel 1/4″ piping w/ swagelok fittings & 1/4″