Ovens for many applications. 
Temperature : max. 300°C 
The FRANCE ETUVES XU are universal and ideal for all drying applications and other uses such as : heating, heat preservation, component aging, curing, sterilisation or any other laboratory thermal tests in all sectors of industry.
There are 8 standard volumes : 32, 58, 112, 225, 343, 490, 686 and 980 liters.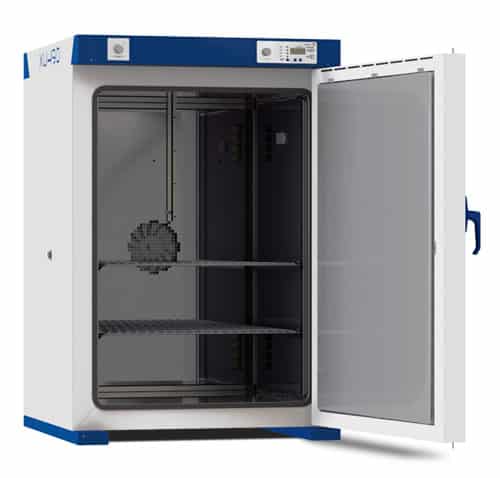 A robust manufacturing that meets quality requirements.
White and blue paints on electro galvanized steel is used for making the outer plates of the oven.
Brightly polished, corrosion resistant stainless steel is used to make the inner casing that allows processing higher water content products.
For minimal space requirement, the control panel is located on the top part of the oven.
ACCESS PORT Ø 20 mm
For the passage of cables or probes, an entry port with a 20mm Ø is centered on its left side. Incase of non-usage or to make it artight after passing the cables, the access port is blocked with a silicone cork.
INTERNAL LIGHTING
A switch located on the control panel activates an internal light equipped in the oven.
EASY CLEANING
Cleaning operations are easier due to the rounded corners of the inner casing.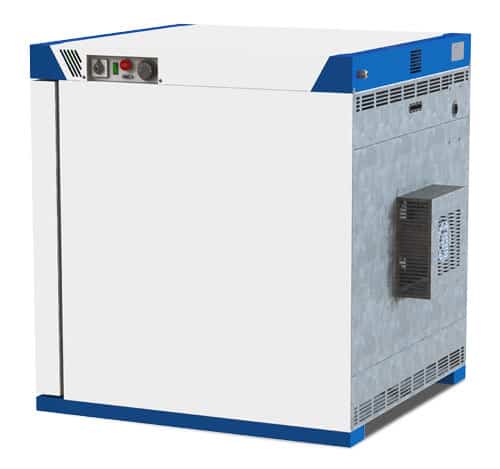 An exceptionally effective oven.  
EXCELLENT INSULATION
Optimization of thermal insulation by asbestos-free glass wool.
There is no contact between the outer and inner casing.
– There is no thermal bridge in order to ensure :
– reduced surface temperatures,
– reduced power consumption,
– quick heating up.
SEAL DOOR
A long-lasting stabilized silicone steal ensures air tightness of the door. For easy and quick cleaning, it can easily be removed.
AN EFFICIENT HEATING
The ideally positioned sheathed stainless steal heating elements in the air flow permits homogeneity in heating up.
A forced convection for an amazing temperature homogeneity ! 
One or two fan motor(s) provides ventilation. It makes the drying process faster and ensures homogeneity in heating in the working volume. Heating is done by the heating elements and is blown into the working volume. Fan speed can be adjusted with a speed controller on the control panel.
Adjustable air change
An air change inside the working volume is possible to be created. More or less of the flap of the air outlet can be opened with the help of the adjustment button. Ambient air replaces the hot air that escapes from the air outlets.
The Ø 36 mm air outlet can be connected with the extraction system.
The C3000 temperature controller :
accuracy and reliability.
FRANCE-ETUVES has developed a highly accurate and highly microprocessor in the C3000 temperature controller.
Highly efficient and very easy to use. Measurement by PT100 sensor. PID electronic regulator. Accuracy: 0.1 ° C.
Functions :
Setpoint display and that measured.
– Delayed Start : 1min to 99h59min.
– Heat ramp.
– Heating timer from 0 to 99h59min.
– Repeat loop.
– End of a cycle has a buzzer
– Over temperature alarm.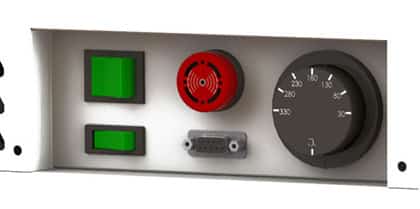 Work safely !
The adjustable and independent safety thermostat (protection class 3.1) ensures temperature safety of the oven by visual and sound alarms.
In case of overheating, it cuts off the heat and also aids the control in the event of main control system failure.
An RS232 cable from a computer ensures control of the oven.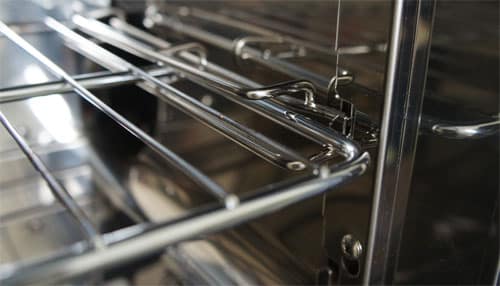 Loading shelves
Ovens are provided with 2 shelves (metal grills).
For convenient loading/unloading many positions are available.
30kg is the maximum capacity of each shelf.
An anti tilting system is installed in the support of the shelves.
Extra shelves with a 60kg capacity are available as accessories.